Tempo di lettura:
7
minuti
We spoke to Tessa Clarke, the Co-Founder and CEO of OLIO, about what it's like being a female entrepreneur and how the app is tackling waste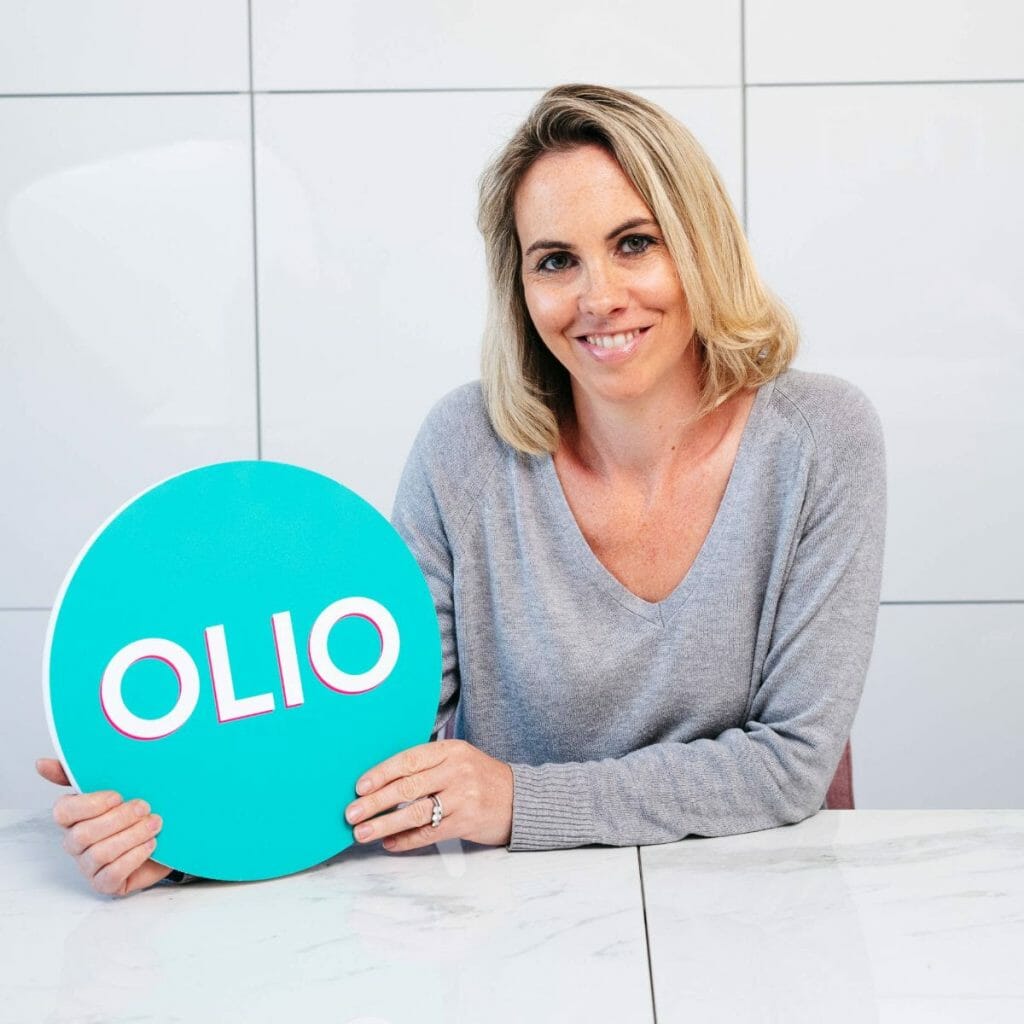 OLIO is the free sharing app that connects neighbours and reduces waste. The app was created in 2015 by two friends – Tessa Clarke and Saasha Celestial-One – on a mission to create a world in which nothing of value goes to waste, and every single person has enough to eat – without destroying our planet in the process. What started as an idea during a move abroad has turned into a marketplace saving thousands of items each week. From food nearing expiration or no longer needed to books, homeware and clothing in need of a new home, OLIO is now the #1 free sharing app with nearly 4 million users in 59 countries and partnerships with supermarkets and food chains, including Tesco, Planet Organic and Pret A Manger. We spoke with Tessa to find out more about OLIO, what it's like being a female entrepreneur and how the pandemic has impacted the sharing market
Tell us how OLIO came about – what was the inspiration behind the app?
I'm a farmer's daughter, and so have always hated throwing away good food. This is because I know from first-hand experience just how much hard work goes into producing it! As a result, the inspiration for OLIO came when I was moving country and found myself on moving day with some good food that we hadn't managed to eat, but that I couldn't bring myself to throw away. And so I set off on a bit of a wild goose chase to try and find someone to give it to, and I failed miserably. Through the whole process it seemed to me crazy that I should have to throw this food away when there were surely plenty of people within hundreds of metres of me who would love it, the problem was they just didn't know about it. And so the idea of OLIO, a mobile app that connects neighbours to share food came about!
How does OLIO works?
OLIO is a free app connecting neighbours with each other, and volunteers with local businesses, so that surplus food can be shared, not thrown away. It can also be used to give away other spare household items, and to buy and sell homemade food and handmade crafts.
To use OLIO you simply snap a photo of your item and add it to the app. Neighbours then receive an alert, can browse through the listings and request what they want, and then pop round to pick it up. Half of all food listings are requested in under 30 minutes, and half of all non-food listings are requested in under 4 hours. OLIO has 4 million users who have together shared over 20 million portions of food and 3 million household items.
What makes the app so unique?
There are so many things! I think the fact that we're harnessing the power of technology for good, and that we're focused on empowering absolutely everybody to stand up to the climate crisis and make a difference. We're also a female founded, venture-backed business which makes us pretty rare! And we've never had an office either, and yet are a team of almost 40 people with 75,000 volunteers.
What sort of people use OLIO?
Our number 1 company value is "inclusive" and so we've worked hard to make sure that OLIO is for everyone! What unites OLIOers is their hatred of waste, and their love of sharing. We have people from all walks of life using the app, although we do find that our audience skews broadly female and in the 25-44 year old range.
Has it been a challenge changing people's attitudes towards food waste? 
It's been enormously challenging to try and change people's attitudes towards food waste. I think that's for a couple of reasons: first, food seems so natural and so it's really counterintuitive to think that it can be devastating for the environment; second, it's easy to assume that the problem lies with the retailers, rather than us; and 3rd, changing habits is really hard and for too many people, throwing away food has sadly become second nature. We've tried to turn this around by not only spreading the word about the food waste problem – and the role of households in this – but we've also tried to create an experience in the OLIO app that's really simple, safe and fun.
OLIO works as part of the sharing economy – what are the advantages?
We passionately believe that the future lies with the sharing economy! That's because we're currently consuming the world's resources as if we have 1.75 planets, which clearly we don't. To avoid the worst effects of the climate/biodiversity/resource depletion crises, then it's absolutely critical that we stop consuming so much new 'stuff' and instead start using what we've already got. In addition to helping save the planet, the sharing economy is also much lower cost than buying new, and more often than not gives you a lovely warm fuzzy feeling as you connect with other people in your community.
At what level of the food chain is food waste most damaging, and how does OLIO address this?
Globally one third of all the food we produce gets thrown away which is worth over $1 trillion p.a.; meanwhile 800m people go hungry (who could be fed on a quarter of the food we waste in the West); and if food waste were to be a country, it would be the third largest source of greenhouse gases, after the USA and China! And as we look to the future, we have another 2.2 billion people joining the planet by 2050, and in order to feed us all we need to increase global food production by 60% according to the FAO, but today, we have no idea how we will achieve this. What's surprising to most people is to discover that in the UK, over half of all food waste takes place in the home – with the average family throwing away £700 of food each year,collectively adding up to £14 billion. This is in contrast to retail stores that generate just 2% of all food waste. So this means that we're half the problem; but, it can also mean that we'll be half the solution!
As the founder, what are the biggest lessons you've learned since the app was launched? Have you faced any challenges as a female entrepreneur?
One of the biggest mistakes I've made on the entrepreneurial journey was spending so many of the early years hoping for a "silver bullet". It felt like every next feature, or marketing campaign was going to be the one! I've since realised that Ben Horowitz was absolutely spot on in his book The Hard Thing about Hard Things when he said there's no such thing as a silver bullet – there's just a s**t tonne of lead bullets. Coming to this realisation was an enormous emotional relief and a real turning point in terms of how we thought about scaling OLIO.
The biggest challenge has without a doubt been fundraising – which has been made significantly harder due to the fact that we're a female founded business (female founded businesses get less than 2% of all VC funding). There are no easy solutions here, other than a lot of persistence and resilience.
Do you have any tips for anyone wanting to start their own sustainable business?
My advice for anyone starting a sustainable business, would be the same advice as for any entrepreneur… First, when you're starting a business it's critical to have a learning mindset – your key objective at this stage is to experiment as quickly as possible, not to have all the answers. Second, you can de-risk massively by starting small and building from there – if you haven't already, do read The Lean Startup, a great business building philosophy. Lots of people want to jump straight to building an app, but I strongly encourage you to build your community or product on an existing platform such as Facebook or Instagram before investing in building something more. Third, given that more capital provides more runway, and more runway generally equates to a greater probability of success, make sure to carefully scrutinise every expenditure you make – it's surprising how much you can achieve with how little when you get creative. And finally, although entrepreneurship can be the most fulfilling thing in the world, it is also an incredibly long, tough journey, so make sure to carve out some time for yourself to preserve your health and sanity! It's time well spent ☺
What are you most proud of when you think of OLIO?
Hands down it was when we won an award from the United Nations, recognising OLIO as a "beacon" for the world in terms of being a scalable solution to the climate crisis.
Has COVID changed or altered the business if at all? 
As soon as the pandemic hit, we quickly pivoted our model to a COVID-compliant "no contact pick-up", which means that the person giving away the item pops it outside a few moments before the person picking it up is due to arrive. Overall COVID has resulted in an outburst of neighbourly sharing, as reflected by the fact that the amount of food being shared each month has increased five-fold since the pandemic struck. That's because COVID highlighted just how precious food is, which led to a collective leap in terms of how much we value it; and it also exposed how much hunger we have in our societies, and how powerful communities can be when they come together.
At the height of the first lockdown we launched a #Cook4kids and #Cook4carers campaigns which encouraged our community to cook spare meals for people who needed them in the local community. We had 20 celebrity chefs including Melissa Hemsley, Alice Waters and Hugh Fearnley Whittingstall providing recipes as inspiration, and to date we've had over 30,000 meals given away.
Now we are easing out of lockdown, have there been any changes to the business? Do you feel confident in the business post-pandemic?
The pandemic has led to a powerful step change in terms of how people are wanting to live their lives – in particular more and more people are wanting to live and connect locally, and to be more sustainable. This plays squarely into everything that OLIO is all about, and so we feel really confident about OLIO's growth prospects as we start to come out of the pandemic.
What do you see for the future of OLIO?
Our vision for the future is an unashamedly bold one – we want over 1 billion OLIOers by 2030. That's because we simply cannot continue to throw away 1/3 of all the food we produce, whilst at the same time being puzzled over how to solve the climate crisis and feed a world of 10 billion people. If we can get everyone giving away, rather than throwing away, their surplus, then we'll make great strides in solving both these problems.